Single Pair Ethernet (SPE) technology was developed in the automotive industry to meet the manufacturers' needs for less bulky and lighter cabling to obtain a reduction in the total mass of the vehicle.
It is an announced revolution also in industrial and process automation since it enables the simultaneous and parallel transmission of data and power using Power over Data Line (PoDL).
In the past, this was possible only by using a two-pair Fast Ethernet or a four-pair Gigabit Ethernet. SPE cables and connectors adopt IEC 63171 standards; they allow a transmission speed of up to 1 Gbit/s and sustain up to 50 W power.
Components and markets
Such characteristics make SPE cables and connectors suitable for all Industrial IoT (IIoT) configurations, from the most complex to the ones that require long-distance data transmission.
But besides cables and connectors, there are also other components that can benefit from SPE technology such as sensors, actuators, controllers, HMI monitors, patch cables, plugs, sockets, couplers and other accessories.
As a consequence, the range of the target markets widens considerably to include robotics, monitoring and control devices, sensors and actuators, as well as, transportation and traffic control, energy and smart grid, precision agriculture and mobile working machines. In all these fields, an SPE standard, based on shared technical and regulatory criteria, will give significant stimulus to the development of new automation solutions.
Towards a unique standard
By jointly supporting the standards for transmission protocols, cabling and device components, SPE will give life to a real "ecosystem", paving the way for areas of applications where each single device is able to communicate with the others.
In consideration of this potential, a group of leading technology companies from different industries and application areas has created a platform, in which Techno takes part too, called SPE System Alliance, whose aim is to support the introduction and spread of a common technological, application and regulatory standard which can make SPE a qualifying factor for IIoT.
All members of the partner program, as well as the ISO/ IEC JTC 1 / SC 25 /WG 3 committees, closely cooperate with the IEEE 802.3 and IEC SC46C committees to define uniform transmission standards for cables and interfaces.
Synergies to innovate
"SPE technology is becoming more and more established, but synergies are needed so that those manufacturers that are interested in its application can integrate it in their current offer without incurring imbalance.
Over time SPE will surely represent the "new" interoperability technology standard to enable the dialogue between the different components that give life to the Industry 4.0 ecosystem, that is to say actuators, control devices on the side of machines, sensors, connection technology and anything related to automation.
Thanks to SPE, it will be easier to collect data on site, and then manage and analyze them.", explains Mauro Nodari, Chief Product & Business Development Officer at Techno.
Electrical connection and new trends
By being a member of SPE System Alliance, Techno goes along with the main market leaders, whose objective is to identify and examine in depth all the new applications related to signal transmission.
"Our SPE team have identified an excellent example of integration and synergy between electrical connection and new technology trends, especially as for data applications in the IoT area.
In that way, we at Techno want to set ourselves up as technical partner able to provide heavy duty connections which are ready for new potential data management scenarios, as well", adds Nodari.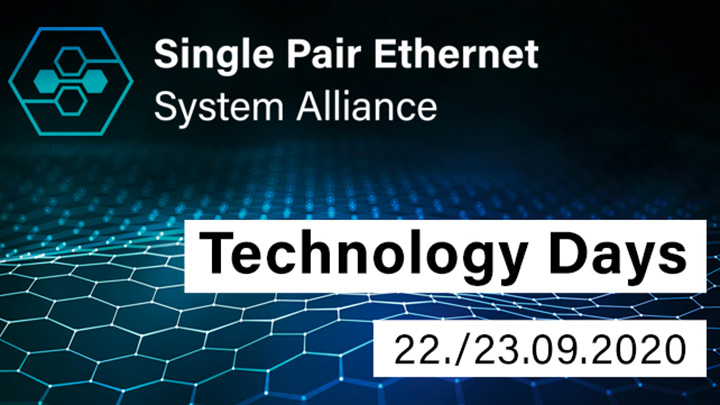 On September 22nd and 23rd SPE Alliance has called the first edition of the Technology Days, an opportunity to talk and exchange information, ideas and opinions on various aspects of Single Pair Ethernet, together with experts from different industries.
In the work group you can find various partners (Dätwyler, Fluke Networks, Kyland, Microchip, Phoenix Contact, Prysmian Group, R&M, Rosenberger, Sick, Telegärtner and Weidmüller) involved in the trends in SPE technology in relation to switches, semiconductors, sensors, connectors and cables.
All conferences will be held virtually and can be followed online upon registration at this address www.singlepairethernet.com/TechnologyDays, where they will be accessible to all participants until 2 October 2020.